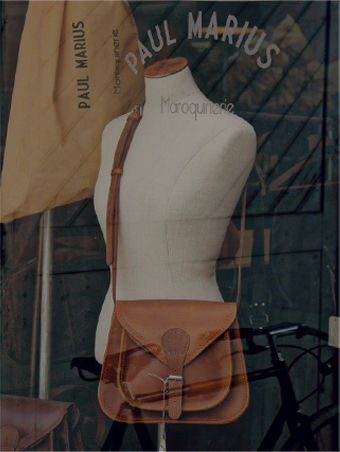 THE BEGINNINGS
Back in 2010, sitting at a café in Rouen - Normandy, Florent Poirier a local self-taught man outlined the basis of his first creation… His inspiration came spontaneously from the observation of bystanders who carried vintage bags.
Entrepreneur at heart and convinced of his idea, Florent decided to enter the market. He wanted to break codes and rethink a vintage leather goods line.
TRADITIONAL CRAFTSMANSHIP
He was convinced that India, a renowned leather goods producing country was the perfect place to have the first 10 pieces of iconic satchel model "LeCartable" handcrafted. Despite he experienced considerable difficulties at first, he kept on persevering and finally met two Indian brothers who became loyal business partners.
Premium handicraft, a unique local know-how along with common values and ambition: all ingredients of a limitless journey were gathered. PAUL MARIUS' adventure had begun!
Popularity is increasing, PAUL MARIUS style begins to take shape and variety of products is expanded. Brand's identity gets stronger: creativity is constantly evolving and the will of astonishing the audience is at the core of everything. Bolstered by this Franco-Indian partnership savoir-faire becomes a motto: perfection of assembly operations, manufacture of new leathers, creation of colours…
SUCCESS HAS COME KNOCKING
At the beginning PAUL MARIUS was exclusively offered on the Internet. PAUL MARIUS' first boutique opened in 2014 in Rouen… and it was an instant hit! This success is now reflected in more than 30 boutiques in France and Belgium, a multi-lingual e-shop and a network of 550 multi-brand resellers.
A unique customer experience, fair price all year long, unwavering quality and authenticity: values at the centre of PAUL MARIUS' community commitment.
PAUL MARIUS TODAY
From limited editions to original and seasonal creations, PAUL MARIUS constantly impresses and amazes: models are always more creative and fashionable, imagined and designed by Florent and his team of le Bureau de Style.
Here and now the brand remains affordable and fits within an off-beat world; rewriting the sector's traditional codes. 1.400 Indian craftsmen and 200 team members are part of this story.And this is just a beginning: PAUL MARIUS will keep on traveling, creating and astonishing you with one single goal in mind: to seduce you.
... OUR STORY BECOMES YOUR STORY !